Hymn Sheet Music With Chords
How Firm a Foundation
Hymn sheet music with chords "How Firm a Foundation".  Choose an easy version with just melody & chord symbols, or one of the piano arrangements in several keys.
If you follow the video very closely, you'll notice that the ENDING of the song, on page 2, is not precisely what I played.  What I used for the end of the song was the first ending.
I got in too much of a hurry, I'm afraid, and didn't put all the notes necessary into the final ending.  OH WELL.  It unfortunately takes hours to re-do PDFs, so this is what it's going to be...
Also, there should be parallel notes in the left hand at the very beginning of the hymn, parallel to what the right hand is playing.  Look at measure 17 on page 2, at the repeat, to see what I mean.  Oops.
Piano arrangements in 3 keys
This piano arrangement starts almost like the 4-part harmony version found in hymnals, but picks up energy with each phrase.  It is satisfying and even pretty, in the broken chord sections.
The extra notes are all chord tones, not scale passages, so for a pianist who understands chords, this arrangement should be easy enough to pick up.
Please scroll down the page for the sheet music PDF links.
Lead sheets with chords & lyrics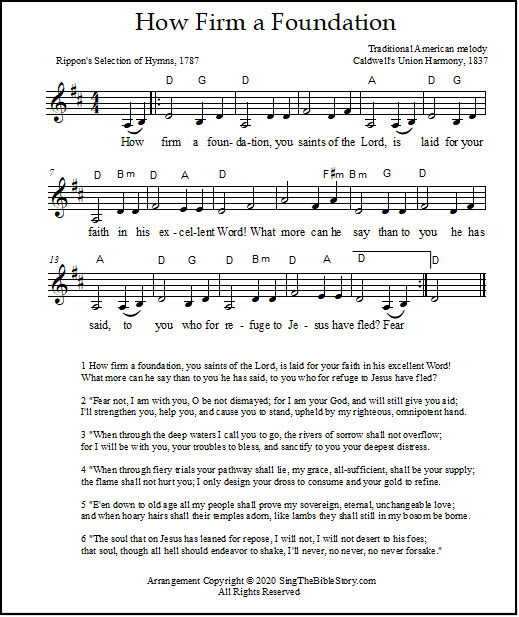 Please scroll down the page for the sheet music PDF links.
I've arranged the lead sheets in the keys of D (the lowest key), Eb, F, G, and Ab (the key that How Firm a Foundation is found in my hymnals).
Here are the lyrics to the hymn sheet music.  Notice the fifth verse - I have never heard it sung before... and it does seem very old-fashioned.  
Also, I know that I have sung the word "hath" instead of "has," in past versions of these lyrics, and "ye" instead of "you."  I've chosen to use the "How Firm a Foundation" lyrics below in my sheet music.
PERMISSIONS:

The creator of SingTheBibleStory.com gives permission to churches and other groups to use this music in recordings, in worship services, and for private use and class situations, EXCEPT FOR MONETARY GAIN.  Write me at "Contact" for a usage license if you are wanting to use this music to raise money.

Here are the lyrics in a block of text, INCLUDING PERMISSION from the creator of  SingTheBibleStory.com to copy, paste, and use in your church or meeting on an overhead projector, computer, bulletin, or the like:

How Firm a Foundation
1
How firm a foundation, you saints of the Lord,
is laid for your faith in his excellent Word!
What more can he say than to you he has said,
to you who for refuge to Jesus have fled?
2
"Fear not, I am with you, O be not dismayed;
for I am your God, and will still give you aid;
I'll strengthen you, help you, and cause you to stand,
upheld by my righteous, omnipotent hand.
3
"When through the deep waters I call you to go,
the rivers of sorrow shall not overflow;
for I will be with you, your troubles to bless,
and sanctify to you your deepest distress.
4
"When through fiery trials your pathway shall lie,
my grace, all-sufficient, shall be your supply;
the flame shall not hurt you; I only design
your dross to consume and your gold to refine.
5
"E'en down to old age all my people shall prove
my sovereign, eternal, unchangeable love;
and when hoary hairs shall their temples adorn,
like lambs they shall still in my bosom be borne.
6
"The soul that on Jesus has leaned for repose,
I will not, I will not desert to his foes;
that soul, though all hell should endeavor to shake,
I'll never, no never, no never forsake."
Used with permission of  © SingTheBibleStory.com
All Rights Reserved
The links for the hymn sheet music with chords, piano arrangements:
Download How Firm a Foundation piano arrangement in F
Download hymn sheet music with chords in the key of G
Download How Firm a Foundation in the key of  Ab
The links for the lead sheets:
Download How Firm a Foundation lead sheet in D
Download How Firm a Foundation hymn chords in Eb
Download hymn's lyrics and chords in F
Download How Firm a Foundation lead sheet in G
Download the hymn lead sheet music in Ab
Thank you for visiting!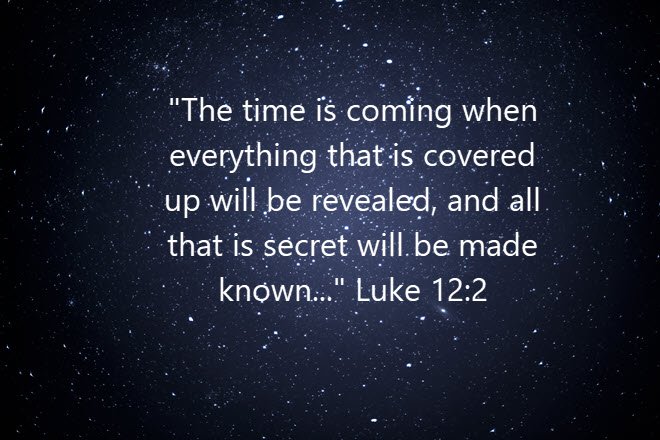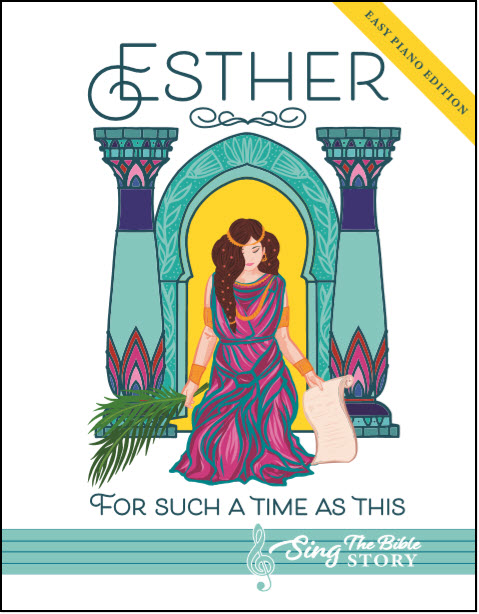 Esther, For Such a Time As This, the Easy Piano Edition
This digital download version in the key of Em, with chord symbols, is greatly simplified.
Your piano students will be able to handle this one!
Also available at Amazon as a paperback.
A perfect read aloud storybook for little boys or girls. 
The Adventures of Tonsta highlight the travels of a very young Christian lad with a good heart, who goes about helping folk in trouble.  
With a red cap on his head and a sack of tools slung over his shoulder, Tonsta seems to meet people in distress wherever he goes.
Lots of trolls in this book.
Esther: For Such a Time as This
Download this beautiful songbook telling the riveting story of the attempted genocide of the Jews in ancient Persia, and the brave young queen who risked her life to change the king's mind and save her people.
Also available as a paperback at Amazon!

Hi, I'm Dana!  (Say that like "Anna".)  I'm the owner of Music-for-Music-Teachers.com, and this  newer site,  SingTheBibleStory.com.
Like some of you, I've been playing the piano since early childhood, and have added a few other instruments along the way, plus an interest in arranging and composing music.
I also happen to love the Lord Jesus Christ, and the Christian worldview that portrays The Great War in the heavens, in which we here on earth are destined to be a part.  

You can find out more about  the reason for this website at the Home  page.