The Bronze Serpent
"As Moses Lifted Up the Serpent in the Wilderness"
The bronze serpent story of the Old Testament - this is a different kind of  song!
 It is a very strange subject for a Sunday School song.  What does it mean?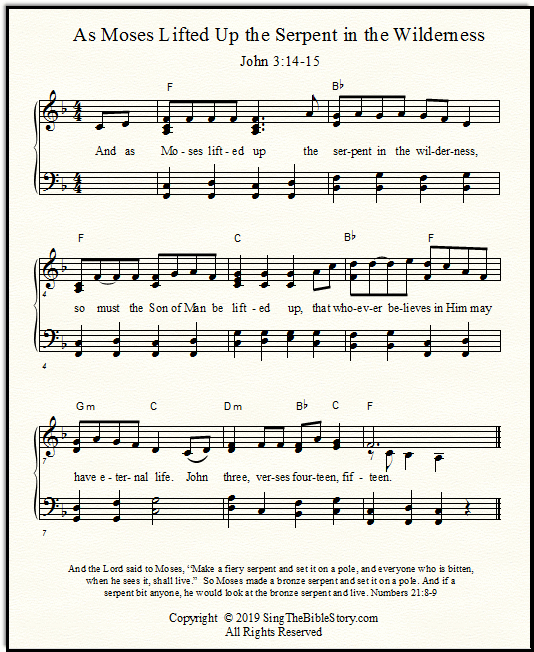 Please scroll down the page for the sheet music PDF links.
Though these words, spoken by Jesus, seem very strange at first, the melody to which they are set has an uplifting and hopeful sound.
Jesus is explaining the meaning of that bronze (or brazen) serpent made so long ago by Moses.  Merely to LOOK at it, raised high on a pole so that all could see,
would bring salvation from PHYSICAL death.
In the same way, LOOKING to Christ on the Cross brings salvation from SPIRITUAL death.
For what is "looking"? Merely an act of faith.  No merit attaches to "looking."
Here is a closeup look at this song: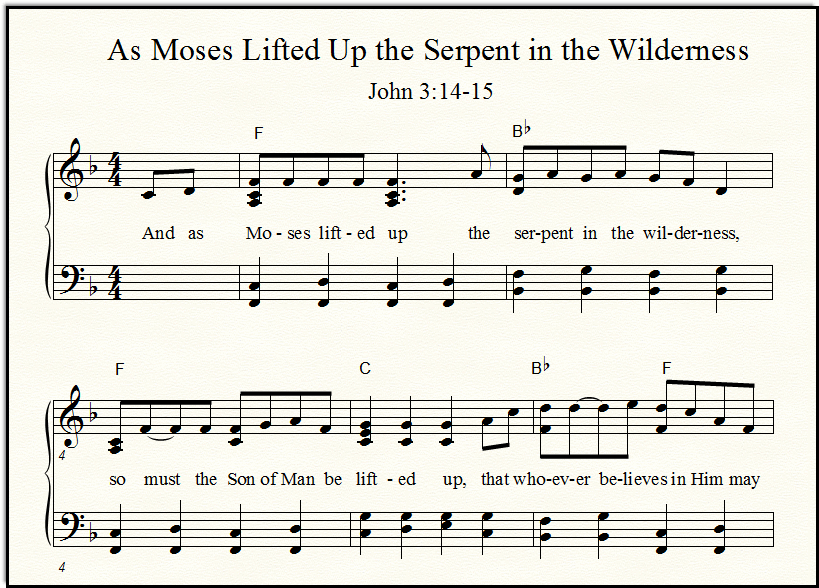 After Jesus spoke these words recorded in John 3, he went on to say to Nicodemus,
"For God so loved the world He gave His only begotten Son, that whoever believes in Him should not die, but have everlasting life."
Those words are very familiar to Christians, and even some non-Christians.  It is the encapsulation of His mission. (See a new song setting for those words, For God So Loved the World.)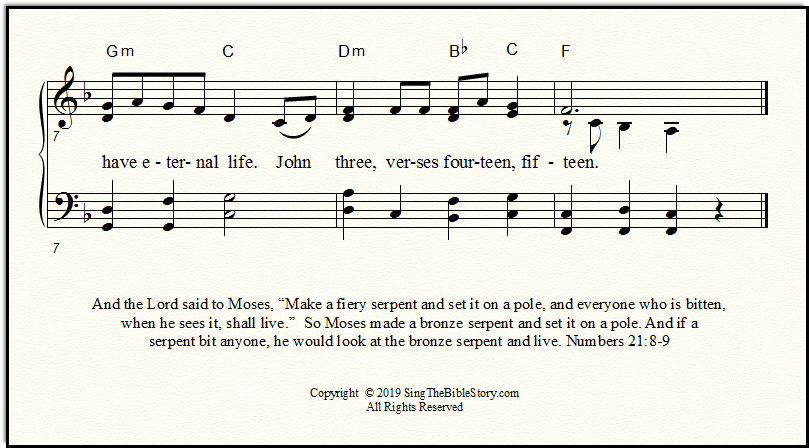 The "boogie"-style chords in this piano accompaniment make this song fun to play - and sing! 
The arrangement below, shown in the key of D, is similar, except that the chords are fast-moving broken chords: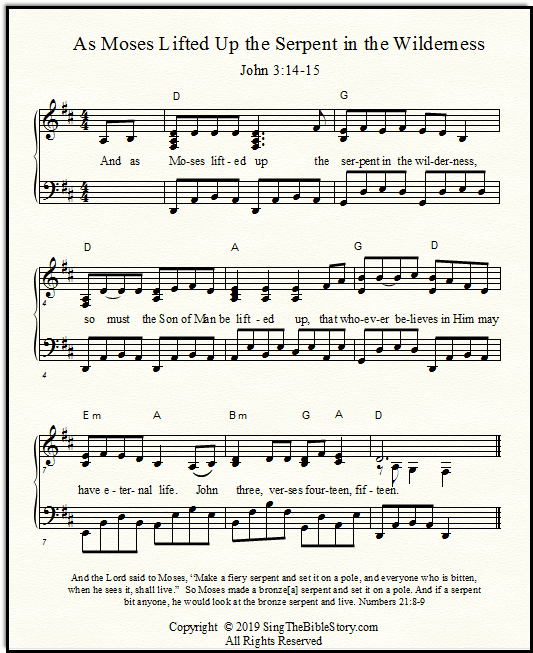 Please scroll down the page for the sheet music PDF links.
A closeup view: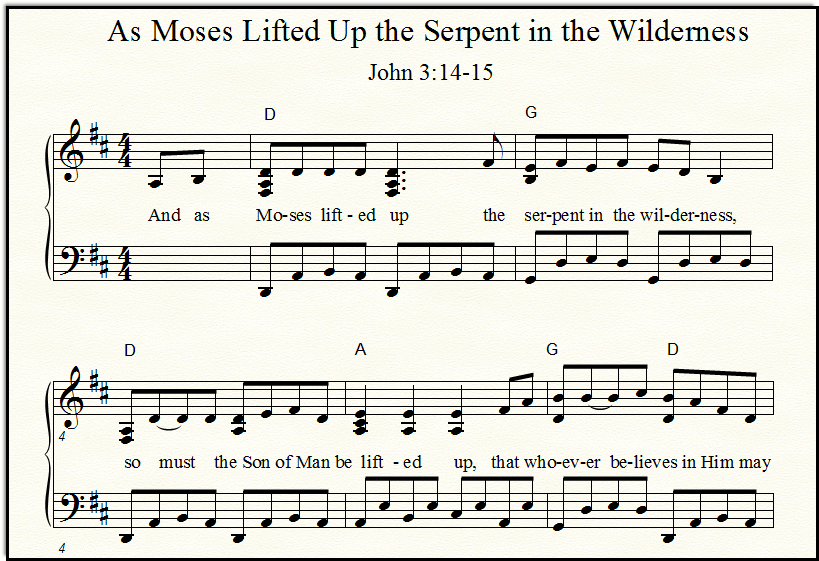 And the bottom of the page: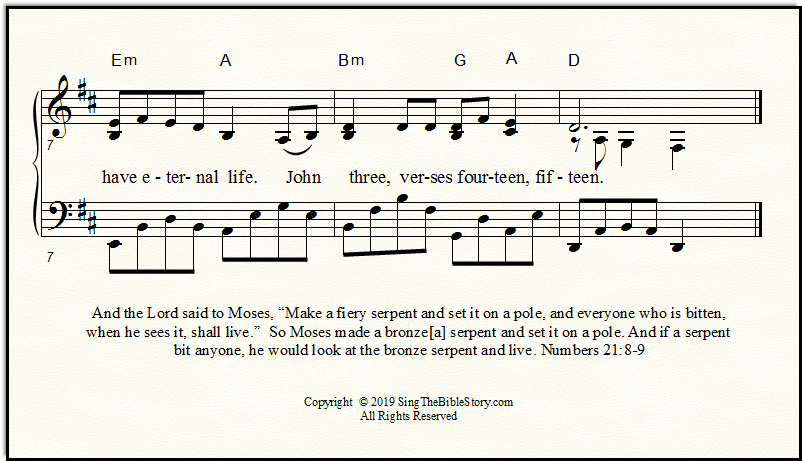 The links for the piano music:
Download the bronze serpent song with blocked left hand chords in F
Download "As Moses lifted up" with block chords in the key of D
Download the song with fast-moving left hand chords in D
Download "As Moses lifted up the serpent" with fast chords in F
Thank you for visiting!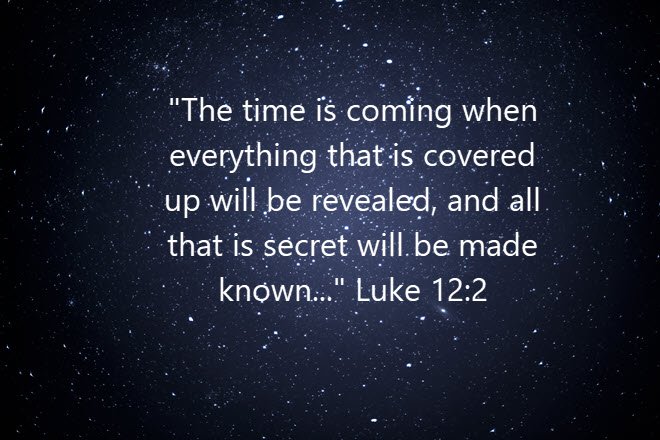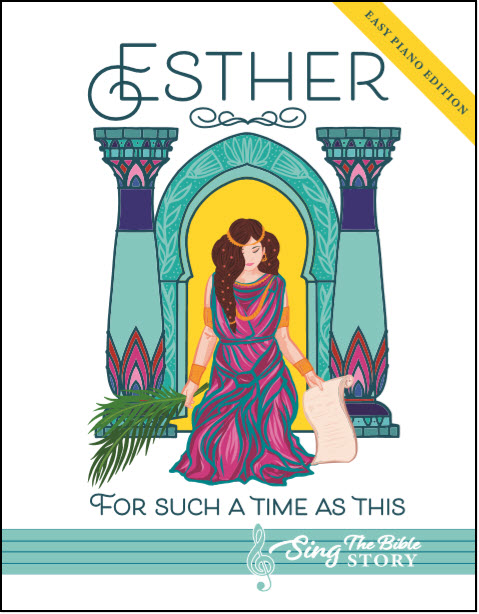 Esther, For Such a Time As This, the Easy Piano Edition
This digital download version in the key of Em, with chord symbols, is greatly simplified.
Your piano students will be able to handle this one!
Also available at Amazon as a paperback.
A perfect read aloud storybook for little boys or girls. 
The Adventures of Tonsta highlight the travels of a very young Christian lad with a good heart, who goes about helping folk in trouble.  
With a red cap on his head and a sack of tools slung over his shoulder, Tonsta seems to meet people in distress wherever he goes.
Lots of trolls in this book.
Esther: For Such a Time as This
Download this beautiful songbook telling the riveting story of the attempted genocide of the Jews in ancient Persia, and the brave young queen who risked her life to change the king's mind and save her people.
Also available as a paperback at Amazon!