Farther On
Hymn Music from the ShapeNote Tradition
Farther On hymn music is one of the sweetest songs for a memorial service or funeral that you will ever find. 
Full of hope and promise, the melody and harmony are lovely and stirring. 
Offered here is a new piano arrangement, in the keys of D, Eb, F, and G.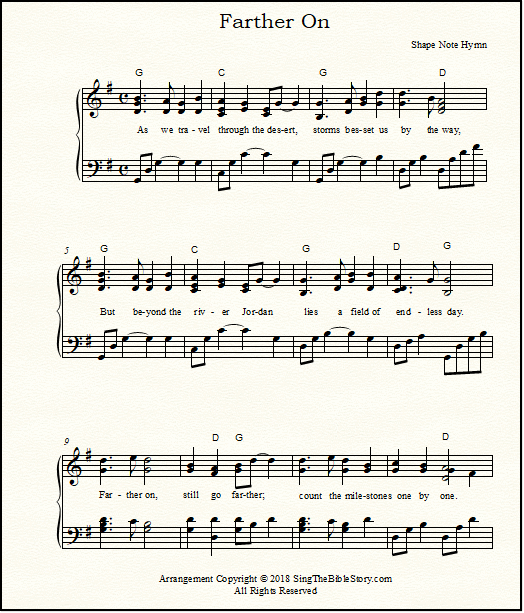 Please scroll down the page for the links to the free downloadable PDFs.
Here is a closeup of page one, in the key of F: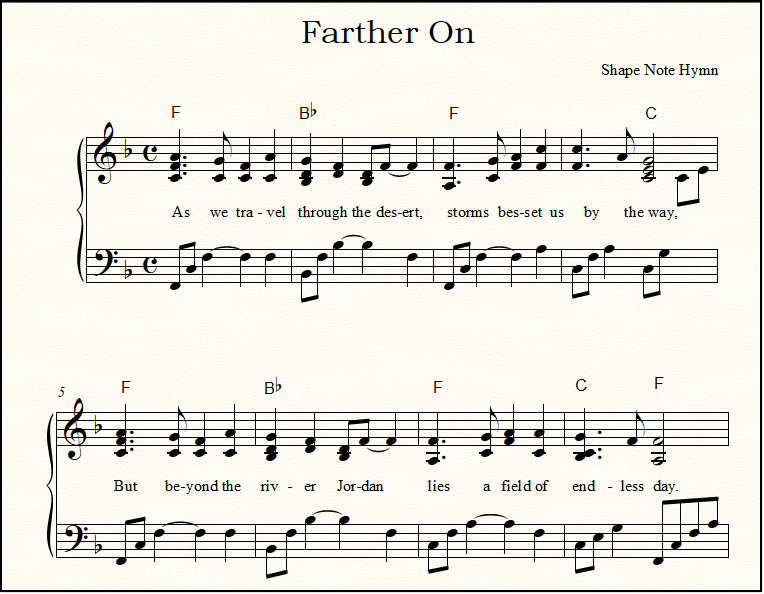 Such beautiful words of hope are spoken in this song:
"As we travel through the desert, storms beset us by the way,
But beyond the river Jordan lies a field of endless day."
The chorus encourages believers to persevere, knowing God said, "I will never leave you, nor will I ever forsake you."  Joshua 1:5, Hebrews 13:5.
"Farther on, still go farther!  Count the milestones one by one;
Jesus will forsake you never.  It is better farther on."
Here is a closeup of the bottom of page one: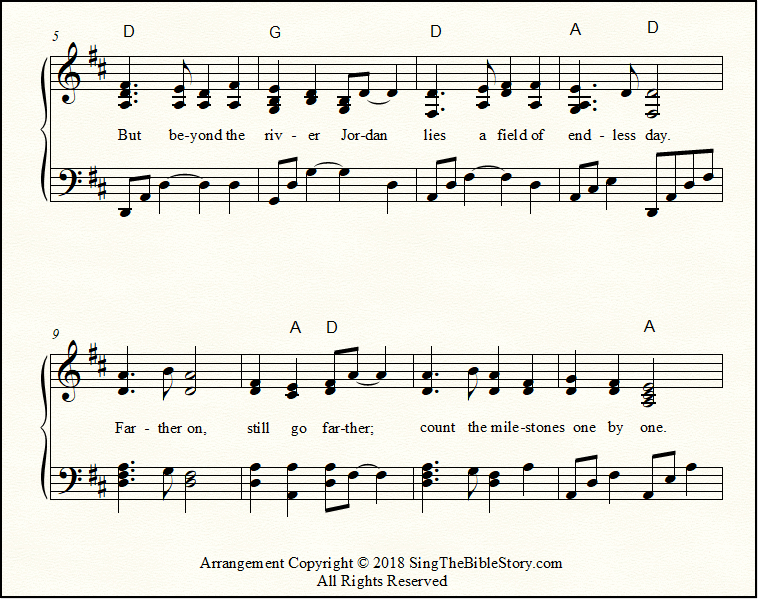 And here is what the top of page two looks like, in the key of Eb.
The long broken chord at the end of each chorus also serves as a rhythmic inducement for a congregation to jump back into the beginning of the next verse.  

You know how sometimes a hymn or worship chorus fails to supply a strong signal to the congregation?  I hope that will not be the case with this arrangement.
---
The links to the piano music:
Download Farther On hymn music for piano in the key of D
Download the funeral hymn in the key of Eb
Download Farther On in the key of F
Download this lovely hymn in the key of G
---
Thank you for visiting!

A perfect read aloud storybook for little boys or girls. 
The Adventures of Tonsta highlight the travels of a very young Christian lad with a good heart, who goes about helping folk in trouble.  
With a red cap on his head and a sack of tools slung over his shoulder, Tonsta seems to meet people in distress wherever he goes.
Lots of trolls in this book.
Esther: For Such a Time as This
Download this beautiful songbook telling the riveting story of the attempted genocide of the Jews in ancient Persia, and the brave young queen who risked her life to change the king's mind and save her people.
Also available as a paperback at Amazon!